It was a horrible, no good, very bad day. I won't even get into the details -- see my post if you want to read about the ridiculousness.

But what's cool is that it turns out it really does rock to have a husband to go through bad days with (I'm newly married, in case you didn't see that post). Mike and I dated for almost all of 15 years before we married (since I was 14), so you'd think I'd already kind of know what it's like to have someone always there with you, but this living-together-and-being-married thing really did make things feel different.

So, today sucked but my husband is awesome.

Also, more to what you probably care about: cake is awesome. And it also makes bad days better :) THIS cake is especially flippin' awesome. Hope you enjoy it!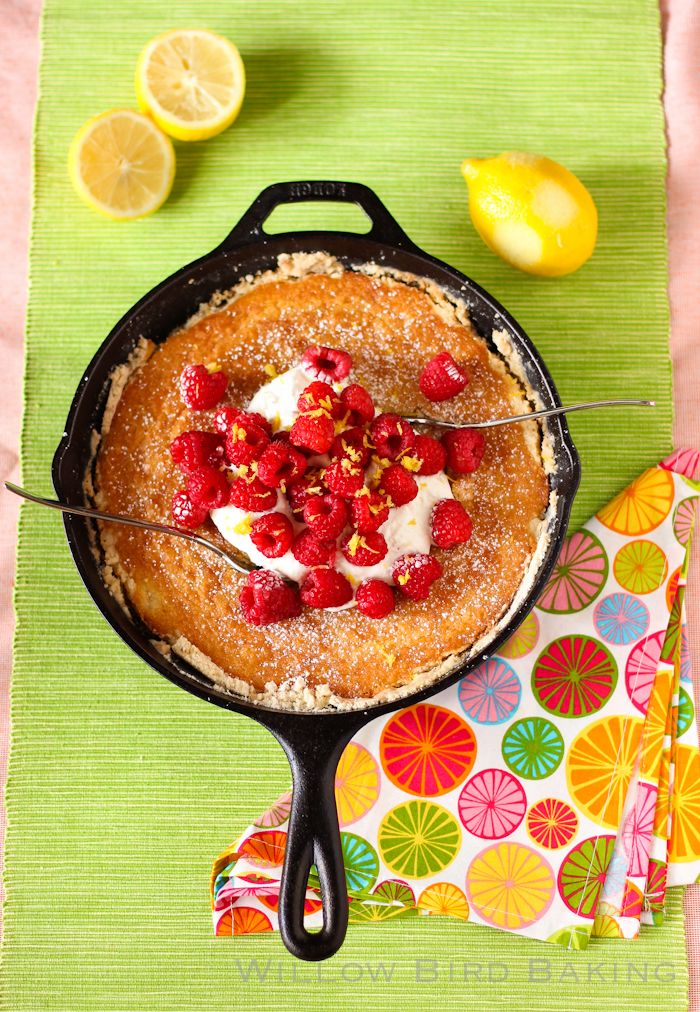 Lemon Raspberry Gooey Butter Cake
---

Recipe by: Willow Bird Baking, adapted from one provided to St. Louis Today by Fred and Audrey Heimburger of Heimburger Bakery.
Yield: would easily serve 4-6 people

This was beyond fantastic. The gooey, fluffy texture of this cake along with the subtle lemon flavor was a downright ethereal combination. You're gonna freak out when you taste it!

Crust Ingredients:
1 cup cake flour
3 tablespoons granulated sugar
1/3 cup butter, softened
1 teaspoon lemon zest

Filling Ingredients:
1 1/4 cups granulated sugar
3/4 cup (1 1/2 sticks) butter, softened
1 egg
1 cup all-purpose flour
2/3 cup evaporated milk
1/4 cup light corn syrup
1/2 teaspoon vanilla extract
1 teaspoon lemon extract
1 teaspoon lemon zest
powdered sugar for dusting

Toppings Ingredients:
fresh raspberries
2 cups heavy whipping cream
2 heaping tablespoons powdered sugar
lemon zest

Directions:
NOTE: If you don't have a skillet, I believe you can bake this in a greased 9-inch square baking dish (I'd use a glass one if you have it, and check it early and often. Remove when there's some jiggle left.) Let us know how it goes if you try it this way for all the other skilletless people!

Make the crust: Preheat oven to 350 degrees. Whisk together cake flour, zest, and sugar in a medium bowl. Cut in the butter with a pastry cutter or two knives until the mixture resembles fine crumbs and starts to cling together. Press the mixture into the bottom (this step is a lot harder than it sounds, but be patient and use the back of a spoon to help spread/press the mixture down. I also stuck mine in the fridge for a bit to make the butter less sticky) and up the sides of a 10-inch cast iron skillet.

Make the filling: Cream together the butter and sugar until fluffy and pale yellow (about 2-3 minutes). Mix in the egg until just combined. Alternate adding the flour and evaporated milk, mixing after each addition. Mix in the corn syrup, vanilla extract, lemon extract, and lemon zest. Pour the filling into the crust and sprinkle the top with icing sugar.

Bake and assemble the cake: Bake for 25 to 35 minutes or until cake is nearly set (mine was probably ready around 30). Some jiggle is fine — do not overcook! It'll finish setting up as it cools. Sprinkle some more powdered sugar on top. Let the cake cool in the skillet for 2 hours. In the meantime, beat heavy cream and 2 tablespoons powdered sugar together in a bowl to stiff peaks. Pile heaps of fresh raspberries into the center of your cooled, set gooey butter cake, top with a mountain of freshly whipped cream and lemon zest, and serve.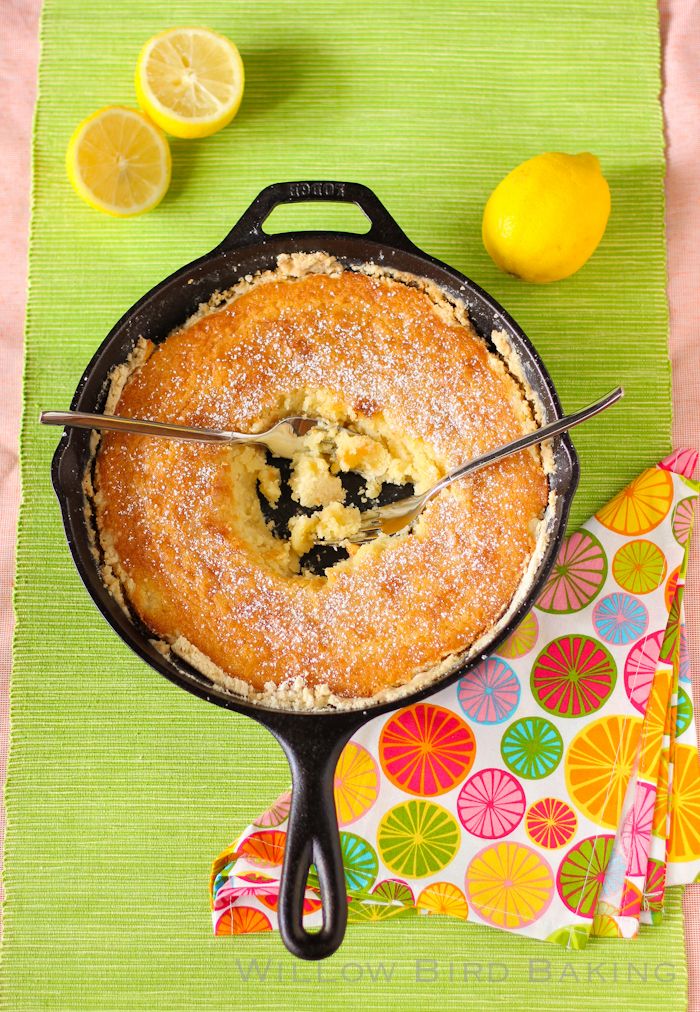 To read about my day, see what a Sasquatch has to do with this cake, and see more photos, please head over to Willow Bird Baking!

x-posted to food_porn, picturing_food, cooking, bakebakebake